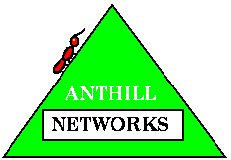 Helping Small Businesses Spread Out
Anthill Networks is an engineering services provider.
When it comes to custom software engineering that fits your needs, Anthill can help you find a solution that keeps on saving you time and money.
For the first time since computers began helping us solve problems, the strength of networking is becoming obvious to even the most casual system users. Likewise the heterogeneous computing age is finally becoming a reality following many years of heterogeneous wave predictions. Now operations and field support can always have current application notes, field upgrades, and manuals that are in sync with the field installations.
Anthill Networks is ready to help you apply contemporary technology to your engineering problems. Ask Anthill to help you reach a timely and economical solution -- a solution that is maintainable and extendable to meet additional near term needs.
Anthill's expertise lies with the following key services. Most of them apply to industrial applications that perform acquisition and control in the field. Networking makes it possible to bring all but the most inaccessible sites directly to you in the field office or the downtown office.
gets you connected.

For more information, contact Anthill Networks in Houston, Texas:

email: webmaster@www.antnet.com
1 281 923 7737
http://www.antnet.com/

---
Internet Business Services
Web Pages
Database
Domain and Web Server
Internet Access
Networks -- inside and out
---
Real Time Software Development
Time and Event Data Acquisition
Data Server
Display Station
Man-Machine Console
Periodic Reports, Demand Reports, Trends
Networked Computing Architecture
Multi-processor Architecture
Marine seismic acquisition and database updating
Computed and raw data distribution near and far, fast and slow
Closely coupled multiprocessing
---
RTU Development
Custom Multi-drop communication protocol
Master station development
Custom or commercial multitasking kernel
---
Embedded System Development
Remote Keyboard
PC BIOS
Bisync, SDLC, and custom communication
8mm tape with Pertec emulation
Low power data logger
---
Related Sites
---
Glossary
---
This site is best viewed with Netscape Communicator.
Download Netscape Now!
Updated 30 December 2000
Copyright (c) 1995-2000 Anthill Networks. ALL RIGHTS RESERVED